A WORD FROM THE CEO
The year has been a challenging one with mixed results from our portfolio of clinics. Those clinics with stable teams of practitioners have performed well and made excellent use of new advanced laser equipment that was purchased in 2014. In a number of clinics higher than usual staff turnover and a larger number of staff undertaking training has impacted revenue and profitability.
The market for non-invasive advanced skin solutions has continued to grow in the UK with new competitors and clinic openings providing ever more choice for the client. Competition to acquire new clients has increased however DestinationSkin believes its stands out well in the market by delivering a high quality offering via well trained practitioners and by working hard to inspire and educate clients about the benefits of adopting advanced technology to address their skin concerns.
Charles Tuke, CEO
IMPORTANT EVENTS IN 2015
The majority of clinics enjoyed a full year usage of advanced new lasers, predominantly for hair removal, enabling us to treat clients in a faster time and with better results.
We successfully launched the first annual "skin care awareness week" which was heavily promoted via social media and drew widespread competitor and market activity supporting the campaign.
In 2015 we have closed or announced the closure of 6 smaller or poorly performing clinics enabling us to focus on improving revenue and profitability at our core clinics. Once these closures are complete our UK clinic portfolio will consist of 18 clinics, 7 of which are in the London area and the remainder well-located in large UK regional towns or cities.
FAIRFORD´S VIEW
DestinationSkin operates in the highly fragmented advanced skincare market where barriers to entry continue to reduce over time. The UK market is still in an early stage and a few companies are competing to become the dominant players via acquisitions or expansion. The semi-medical nature of the sector brings certain challenges including extra cost to provide medically compliant facilities, suitably trained staff and adequate insurance levels. The appropriate level of regulation of the sector is still under significant debate in the UK adding uncertainty to long term planning. We will continue to support DestinationSkin to become a dominant player in the sector whilst keeping a close eye on market developments.
Sales, EBITDA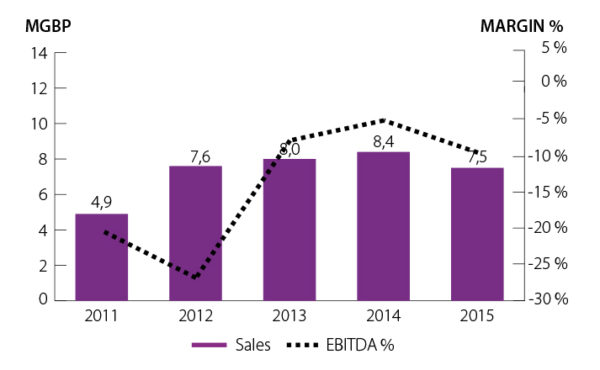 Equity Ratio, ROCE