A WORD FROM THE CEO
Lubricating grease is used in very many applications to keep modern industry running and we provide our customers with a comprehensive range of lubricating solutions for industries such as automotive, off-road, agriculture, food, steel, mining, pulp & paper, marine, railways and many more. High performance products will reduce friction to save energy and protect valuable equipment from wear and tear, thus reducing operating costs.
At AXEL we offer our Customers both the best lubricating products and a wide range of value-added services, such as technical training, sales and marketing support. Our in depth knowledge about lubricating greases and their respective applications is combined and defined as Lubrisense™, our way of thinking and applying unique know-how for our Customers. AXEL is well established as the supplier of choice with high quality products.
Johan Stureson, CEO
IMPORTANT EVENTS IN 2015
In March we officially opened a new fully modernised grease plant in France, enabling greater operational efficiency. The plant in Rosedale, MS, is also being expanded with several new kettles, storage silos as well as a new laboratory set for completion in early 2016, while a new filling line for cartridges was commissioned in Q1. All investments across the AXEL Group will enhance our ability to meet the demands of our Customers. This commitment is guiding us today and into the future.
The raw material scene is gradually shifting with the closure of Group I base oil refineries and competing demand for Lithium due to batteries for electrical car. As a grease producer we follow such trends to remain prepared for every eventuality tomorrow.
FAIRFORD ́S VIEW
Axel Group operates in a competitive niche within the petrochemical industry. Despite the fact that the lubricating grease industry is a flat market our view is that additional market shares can be attained both in existing markets where we are currently present as well as in new geographies. Fairford believes there is further value to be created through both organic growth, industry consolidation and improved operations and we are happy to support Axel in all aspects long term in the same manner as we've done since 1997.
Sales, EBITDA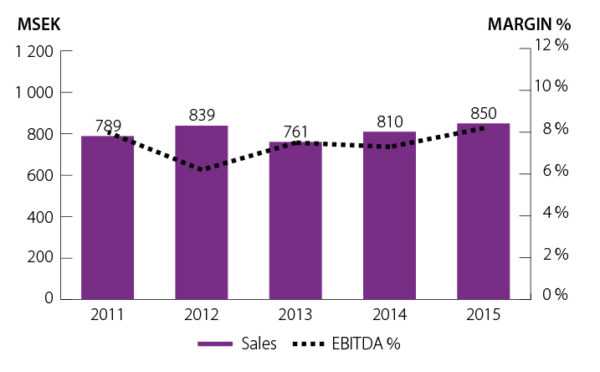 Equity Ratio, ROCE