A WORD FROM THE CEO
Another highly inspiring and eventful year has passed. The major restructuring project, that has been ongoing since mid 2013, has been finalised. A substantial cost reduction programme was implemented in spring 2015. The Group reports profit for the second half of 2015.
A new strategic partnership with Fischer Group as our main supplier of most fixings and fasteners was established during 2015. With our own Ergofast, MAX and Fischer range, we offer top-class premium products targeting the professional construction industry.
The opening of our first Pro Fastening Centre® in Stockholm was successful. Service, training and sales activities have met increasing demand. Our plans for 2016 include Pro Fastening Centre® in Malmö, Gothenburg, and Oslo.
New products, such as Ergofast Gas Nailer, and the new improved MAX Rebar-tying tools and wire, will be followed by even more new innovative products in 2016. This, together with our new way of working and the Pro Fastening Centre®, will contribute to a profitable and successful 2016.
Bengt Rolén, CEO
IMPORTANT EVENTS IN 2015
New partnership with Fischer Group as our main supplier of fixing and fasteners, which, together with our range of MAX products, will cover most of the professional construction industry's needs of fixings and fasteners.
Our new business model, Concept, has also been further developed, focusing also on strategic partnerships with mid-size and large construction companies; Ergofast Pro Fastening Partner® in cooperation with selected distribution partners.
Recruitment of a number of industry specialists with technical expertise backgrounds.
Launch of our own new specialist Gas Nail Gun, Ergofast EH 140/200HD, for installation of insulation boards.
FAIRFORD ́S VIEW
Fairford has for many years had an exposure towards the construction industry and we believe that it makes sense to maintain this exposure in our portfolio. The construction industry is cyclical in its nature but it is a market which is here to stay for the long term and that makes Fairford and our investment horizon a suitable owner. Ergofast's business in specific is fundamentally based on making its clients' operations more efficient, ergonomic and safe which are trends that are strengthening in the market and attributes that we easily can relate to as owners of the company. In Ergofast we see our platform to broaden our interests in specific niches of the construction industry.
Sales, EBITDA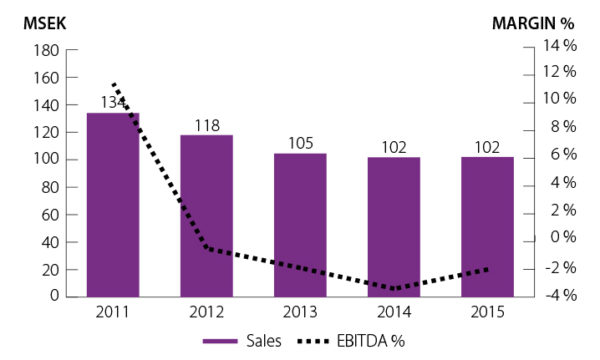 Equity Ratio, ROCE