A WORD FROM THE CEO
2015 has been a year of continued internal changes started in 2014, but also focus on development of our business with existing and new clients. We have seen a year with growth and potential to grow even more. The construction markets in the Nordic region have all been positive for us, even though the Finnish economy has had a negative development. We have grown on all markets, in all client sizes and are showing a profit after a series of bad years. Already last year we indicated that we would see a reduced inflow of new claims. During 2015 we have seen a substantial reduction in new claims and are confident that our risk measures have been correct. We have continued our work with preparations for Solvency 2 and are now ready for the new set of rules and regulations, which will be the same for all insurance companies in the EU from 2016.
Johan Brinkenberg, CEO
IMPORTANT EVENTS IN 2015
The Swedish Financial Supervisory Authority has approved Manzillo Holdings Limited as new majority owner of Nordic Guarantee. Manzillo has already a management agreement with our long-term South African partner Lombard Insurance Company. The new ownership structure will allow us to further develop the cooperation with Lombard that we started in 2012.
After a number of years with negative results, Nordic Guarantee is now showing a profit for 2015. The work to change and strengthen the company continues.
A new and more capital-efficient reinsurance treaty has been put in place.
The work to prepare the company for the new rules and regulations for insurance companies, Solvency 2, which will be in force from 2016 has been successful. The owners have increased the capital in Nordic Guarantee to meet the requirements with a substantial margin.
FAIRFORD ́S VIEW
The insurance / bond industry in which Nordic Guarantee operates is truly a niche market requiring a niched skillset. As the alternative to the traditional bank guarantee it is a fairly small market but with its main demand and drivers coming from the construction industry it is also a market which is reliable in the long term (albeit cyclical) and long term being a feature that suits Fairford. Analysed properly and with a sound risk selection process we also know that it can be a profitable market in a sustainable way. However, rules and regulations in the financial industry add complexity and costs to the operations and scale will be crucial going forward.
Sales, EBITDA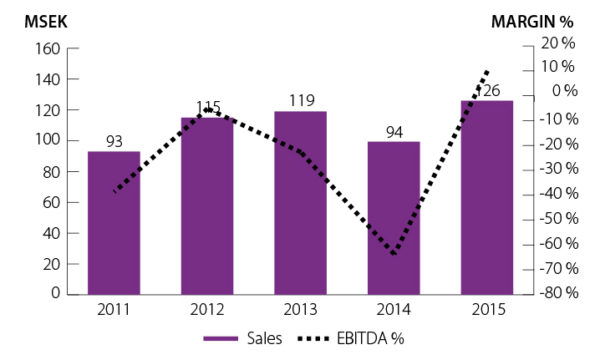 Equity Ratio, ROCE