A WORD FROM THE CEO
The last couple of years' work implementing our new business plan, which included changing business model, has paid off in a steady growth with increasing profitability in 2016.
Our new organisation with very experienced and know-how based sales/engineers staff is now ready to take business to the next level. Established partnerships with the leading distributors/hire plants in the construction industry, together with our own activities, are now the main sales channels in Sweden and Norway.
The new strategic partnership with Fischer Group as our main supplier of most fixings and fasteners is developing by the month and has recently been extended to also include systems for installation, fire protection and façade. With our own Ergofast, MAX, and Fischer range, we offer topclass premium products targeting the professional construction industry.
Bengt Rolén, CEO
IMPORTANT EVENTS IN 2016
Our second Pro Fastening Centre® opened in Malmö during 2016.
Successful participation at the exhibition Nordbygg in Stockholm with the new MAX Rebar tying tool RB 398 and the Fischer FIS GREEN 300T amongst nominations for the best product award.
Recruitment of industry specialists with technical expertise backgrounds has continued – all in line with our plan to focus even more on strong know-how.
Launch of the MAX RB 398 with its new wire resulted in record sales of our MAX range.
A new screw, Ergofast GTX, for extra hard drywall sheets developed in cooperation with Saint-Gobain/ Gyproc, is one good example on how we work within our concept business model.
FAIRFORD´S VIEW
Fairford has for many years had an exposure towards the construction industry and we believe that it makes sense to maintain this exposure in our portfolio. The construction industry is cyclical in its nature but it is a market which is here to stay for the long term and that makes Fairford and our investment horizon a suitable owner.
Ergofast's business in specific is fundamentally based on making its clients' operations more efficient, ergonomic and safe which are trends that are strengthening in the market and attributes that we easily can relate to as owners of the company. In Ergofast we see our platform to broaden our interests in specific niches of the construction industry.
Revenue, EBITDA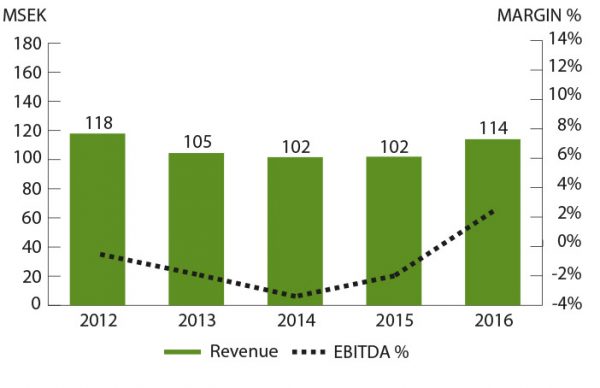 Equity Ratio, ROCE