A WORD FROM THE CEO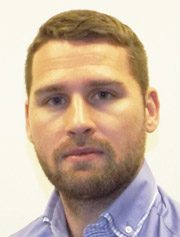 Following a change of control in January 2016, a significant effort has been placed in the development of a refocused business plan capable of delivering growth for the company. Concentrating on a strategic partner led approach, an expansion of our core value adding activities and the continued development of simple, feature rich software solutions.
Whilst continuing to serve the Luxury Marine industry, an expansion into the Commercial Land based markets also offers exciting new opportunities. Our ultimate aim, to establish ourselves as the United Kingdom's number one choice for radio communications software.
Coupled with the benefits of the continued acceleration towards the adoption of digital technology over the current analogue solutions, we are extremely optimistic about the year ahead and a strong recruitment across all departments will help drive our success.
Matthew Wright, CEO
IMPORTANT EVENTS IN 2016
The creation of a focused business plan with renewed Vision, Mission and Values, allowing the company to push forward in the next phase of evolution.
Exhibiting at the 2016 METS trade show and building considerably on the previous year's attendance. This led to increased opportunities with current and potential partners.
The successful introduction of an 'Agile' software development process, allowing the creation of adaptable, measurable and customer focused solutions.
Retention of our ISO 9001 and MED MOD Accreditation quality standards, coupled with achieving Application Partner Status with Motorola Solutions, KenwoodJVC, Hytera and Zebra Technologies.
FAIRFORD´S VIEW
Global View Systems is at the start of a journey to exploit a market opportunity to provide communications software for two-way radios as the switch from analogue to digital radio frequencies gathers pace. With a new CEO at the helm in 2016, this is an early-stage company that requires agility, careful planning of resources and close support from Fairford.
In parallel, the company continues to plan the final development stage and route to market for its wave guide lens antenna technology with a view to commercialise its investment within the next two years.
Revenue, EBITDA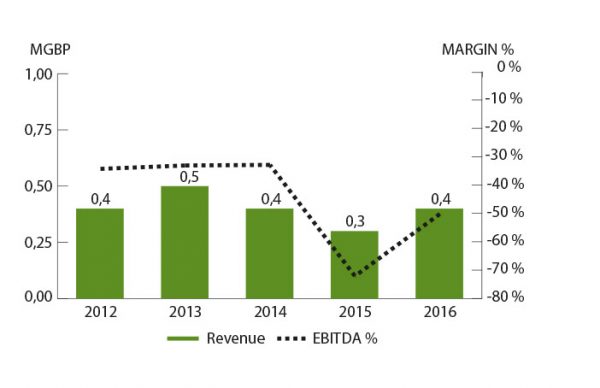 Equity Ratio, ROCE