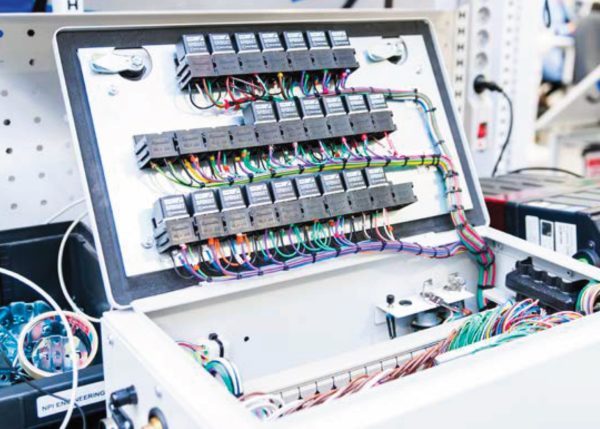 A WORD FROM THE CEO
Last year the global pandemic disrupted and challenged our business. We kept focus on securing customer deliveries and demands, which combined with strong cash management have been the drivers to deliver significant profitability improvements despite lower sales than previous year.
The year started strong, but already by late February, we suddenly found ourselves in the epicenter of the Covid-19 virus. Both our own business in northern Italy, as well as our customers in the region were directly affected and we had to manage several weeks of production stop. As southern Europe came back on line early May we started to see a softening of demand from other industry sectors. This shifted our focus to quickly resize our supply chain and manage capacity. In the midst of this some of our segments actually increased their demands. PanLink has for example been involved in the supply of medical ventilators as well as other essential products during the pandemic. In summary, the sales effects from Covid-19 during the year were limited as a result of the strategic decision, taken some years ago, to expand our market segments.
With focus on a customer driven organization, understanding needs and delivering additional value to support our customers´ challenges, we are moving towards our vision of being the strongest link in our customers´ supply chain. Our customers have rewarded PanLink with several new production projects and we have started additional collaborations in future proof product segments.
To summarize, in 2020 we deepened customer relationships and invested in our business while managing costs and cash. We are well prepared to pursue our mission to support our customers by adding value as an innovative production partner.
/ Lars-Gunnar Nilsson, CEO.
IMPORTANT EVENTS IN 2020
Extended the cooperation with a major European rail company, now supporting ten sites throughout Europe.
Entered production agreement with OXE Marine AB, a Swedish engineering company of diesel driven outboard engines, for their next generation of products.
Pro-actively implemented measures to protect the health and safety of our employees during the pandemic. Digital tools implemented in 2019 helped the organization to quickly adapt to the new work from home policy combined with travel restrictions.
Further supported our customers to smoothly transfer production

by developing our engineering services.

Increased the organisation´s customer focus by strengthened sales

organization.
FAIRFORD´S VIEW
The investment in PanLink was initially motivated by the identified need by many small to medium sized companies to find a production partner in order to manage production during all stages of the product lifecycle from trial runs, ramp up on to high volume manufacturing.
The specific need of this customer segment is still valid and paired with long term relationships with several blue-chip companies PanLink is well positioned to further strengthen its market position. Following the last years financial deterioration, we now believe that PanLink is on the right track to regain historic growth and profitability. Managed carefully with costs and competence built in the correct locations we think PanLink will continue to be a competitive player in the long run and we are keen to support and realise the company's full potential.