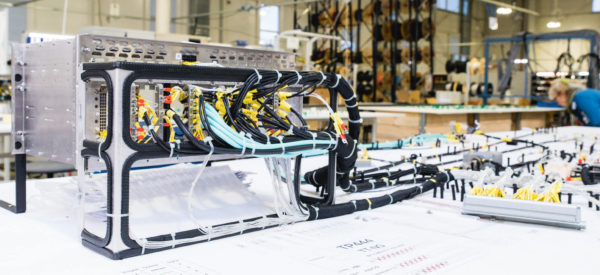 A WORD FROM THE CEO
In 2019 PanLink has started the way back to profitability and growth. We have continued our growth in the rail sector while we suffered from the declining investments in the automotive sector. Overall industry growth in Sweden as well as Europe, our prime markets, has slowed down and we have seen this affecting our customers. This also opens up the possibilities to offer them more cost-efficient solutions and production options.
Last year we finalized the restructuring of our operational footprint with the closing of PanLink China, the plant move and resizing in Italy and the set-up of a rail engineering office in Poland. Our Polish organization continues to deliver a strong performance to our customers putting us in the pole position taking over more new business. We have continued to develop our processes to better serve our customers and sharpen our offer. This includes steps in our digitalization journey with two major investments, in an employee engagement tool to drive our efforts in being an attractive employer and a new forecast analysis tool, to improve service to our customers.
The company has outlined a new business plan, in order to take the next step in PanLink's growth journey. The market is in need of more integrated suppliers who can deliver higher level of assembly as well as provide technical support to take over and secure quality of their products. During the coming year we will continue to build on our assembly and engineering strengths as well as further enhancing our capabilities as an electrical assembly partner.
In 2019, we have won several projects for higher levels of electrical assemblies. Many of these projects will have a steep production ramp up during 2020. Despite the general market slow down, we look positively forward to 2020.
/Lars-Gunnar Nilsson, CEO.
IMPORTANT EVENTS IN 2019
The acquisition of the Italian company Siecab was finalized and the business moved into new premises in Bra, Italy.

An engineering office was opened in Southern Poland increasing our competence in electrical assemblies and the rail market specifically.

Our China operations were closed in April according to plan.

PanLink signed an agreement with a leading rolling stock manufacturer to, in a first phase, deliver cable harnesses and modules worth over 100 MSEK.

We reworked the business plan for the coming five years. We are now better focused to deliver value in various levels of electrical assemblies.
FAIRFORD´S VIEW
The investment in PanLink was initially motivated by the identified need by many small to medium companies to find a production partner in order to manage production during all stages of the product lifecycle from trial runs, ramp up on to high volume manufacturing. The specific need of this customer segment is still valid and we believe it to be a long-term characteristic in the geographies in which PanLink operates. Managed carefully with costs and competence built in the correct locations we think PanLink will continue to be a competitive player in the long run and we are keen to support and realise the company's full potential.