A WORD FROM THE CEO
On from the steady growth of previous years, it was important for us to continue to improve service and look for subtle but no less significant adjustments in our operation to realise this. The most notable (and noticed) of these measures was to introduce a Central Reservations Team so that members could have a one-stop contact to look after all their needs across the House. This also offered us the opportunity to make members aware of other services and offers that may not have been front-of-mind when they initially called. A clear indicator of the success of this initiative was the year on year increase in restaurant bookings in the second and third tertials. Further milestones that we were moving in the right direction were confirmed when membership numbers nudged the 5000 mark for the very first time in the club's history whilst headline EBITDA maintained a very healthy 23 %.
Andrew Richardson, CEO
IMPORTANT EVENTS IN 2015
London is a fickle mistress, a leader of trends both favourable and sometime less so. One such trend was the slight slow-down in the luxury bedroom sales market. Never being a group to shy away from a challenge and having listened to feedback from members, we split two of our larger suites into four club rooms. This gave us more stock of the type of room that members were asking for and offered interest and excitement – everyone wanted to be the first to stay in a new bedroom. Other bedrooms were given a facelift with new furniture packages and comfort cooling was installed in our two largest banqueting rooms; brides melted with the excitement of their big day as opposed to any other reason!
FAIRFORD ́S VIEW
Home House gives us exposure to the vibrant London consumer market and the upper end/luxury category of spend, driven partly by HNWI tourism, seems to know few limits which makes it an interesting segment for investment and further exploration. The majority of revenues are derived from food and beverage sales which have provided resilient during periods of economic uncertainty. Underpinning the business is an exposure to the long leasehold property market in London which continues to show strength due to international demand. We have a strong platform in place to continue to explore a broadening of our exposure in this sector and to gain benefit from economies of scale.
Sales, EBITDA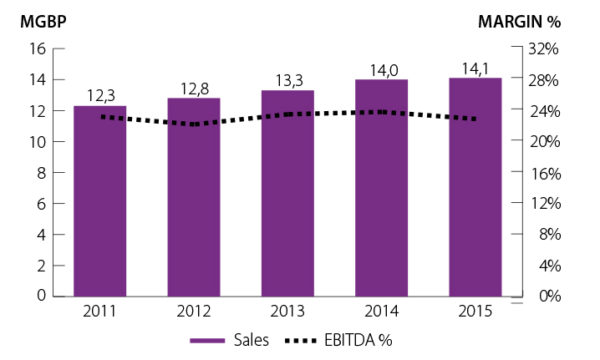 Equity Ratio, ROCE