A WORD FROM THE CEO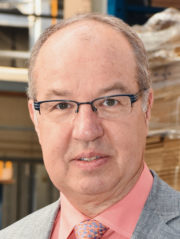 Lubricating grease keeps the wheels turning in modern industry and AXEL offers a comprehensive range of lubricating solutions for industries such as automotive, off-road, agriculture, food, steel, mining, pulp & paper, marine, railways and many more.
Our high performance products reduce friction, save energy and protect valuable equipment from wear and tear. The global market of lubricating grease is an important niche within the overall lubricants market. The consumption is static, but there are dynamic sectors to benefit from, including environmentally adapted lubricants.
The company is well positioned to service customers all over the world, providing a modern and complete range of products branded as their range. Coupled with deep knowledge and specific services AXEL offers our customers an attractive solution as supplier of choice with high quality products.
Johan Stureson, CEO
IMPORTANT EVENTS IN 2016
A fire suspended the operation at Rosedale, MS (USA) on Feb 29. There were no bodily injuries and deliveries re-established very soon. A full recovery was achieved by mid-year, when also the North Kansas City operation was moved to Rosedale.
Lithium raw material cost rocketed due to growing demand for Li batteries in automotive industry. AXEL has secured Li supply and also offers alternative grease technologies.
AXEL Asia Pte Ltd (Singapore) has been established with sales representation for South East Asia, to be supplied from manufacturing units in Europe & USA.
An investment in a dedicated Calcium Sulfonate Complex line was made in Heijningen (NL).The increased capacity will be beneficial in 2017.
FAIRFORD´S VIEW
Axel Group operates in a competitive niche within the petrochemical industry. Despite the fact that the lubricating grease industry is a decreasing market our view is that additional market shares can be attained both in existing markets where we are currently present as well as in new geographies.
Fairford believes there is further value to be created through both organic growth, industry consolidation and improved operations and we are happy to support Axel in all aspects long term in the same manner as we've done since 1997.
Revenue, EBITDA
Equity Ratio, ROCE