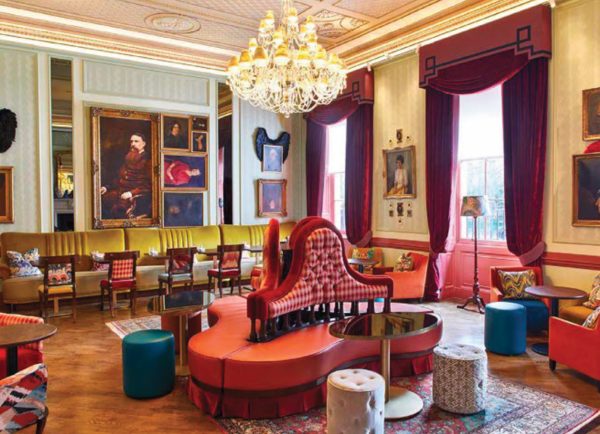 A WORD FROM THE CEO
What a year it's been! We had exciting and ambitious plans for both Home House and Home Grown, however due to the COVID-19 pandemic it all turned out to be very different. Under government directives we were ordered to stay closed for five months and operate under restrictions for 4.5 months, leaving us with just 2.5 months of full unfettered trading throughout the year.
Thankfully we managed to complete our major project which was the refurbishment of the ground floor and first floor of House 21. Designer Russell Sage revitalized the home of hedonism! Creating an exciting welcome by using heritage colors and traditional design it gives a long-lasting impression. Inspired by the heritage of House 21 as a former "legation" or small embassy and the Home House brand, the bar space draws on the freedom, liberation and hedonism that comes with being "away" in another world or place. This is now a space that encourages members and guests to be seated, dine, relax, let go and be themselves. Sadly, very few members experienced this new exciting refurbishment in 2020 so we'll be relaunching it again in 2021.
After its successful launch in the spring of 2019 Home Grown was to focus on growing its community of entrepreneurs, investors and service providers but this became significantly more challenging due to the pandemic.
Following the first "lock down "in late March our plans had to change and a 3-point plan was put in place; to survive, sustain our community of members and prepare to eventually thrive again.
Our shareholders and banks assured us of their support, we furloughed as many staff as possible and concentrated on the retention of our members, engaging with them via an exciting calendar of virtual events and offers. Our membership and marketing colleagues did an excellent job engaging with many of our partners to entertain the members which resulted in positive membership retention for both clubs.
/ Andrew Richardson, CEO
IMPORTANT EVENTS IN 2020
The refurbishment of the first floor and ground floor of House 21.

The creation of the new dining concept, "Vibe Dining" in House 21.

Small shared plates of eccentric British food, creating a relaxed, informal and fun experience for members and guests.
A restructure of the membership and sales department along with

a new Director of Sales who joined us in April.

Pivoting from offering physical events on the premises to hundreds

of engaging and entertaining virtual events via "Zoom ".

Our glamorous and unique walled garden was even more important this

year and became the focal point not only during the warm summer months but also during the limited winter period. We created a mystical winter garden sympathetically illuminated and covered from the elements.
FAIRFORD´S VIEW
Home House Collection gives us exposure to the vibrant London consumer market and the upper end/luxury category of discretionary spend. Most of the revenue at its London clubs of Home House and Home Grown is derived from the sale of food and beverage which has in the past proved resilient during periods of economic uncertainty and low market confidence.
Despite hospitality venues suffering major revenue loss due the social restrictions imposed because of the coronavirus pandemic, we still expect the business, which is underpinned by exposure to the long leasehold property market in London, to show continued strength when global social and business gatherings resume. We have a strong platform in place to continue to explore a broadening of our exposure in this sector and to gain benefit from economies of scale.