A WORD FROM THE CEO
Due to a temporary lower order intake in press hardening lines during summer and autumn 2015, we were able to foresee a decrease in turnover in time for our 2016 planning; the decrease finally landed at -18 %. After several years of growth, we used the situation to streamline our operations. EBITDA rose to 8.2 % and brought us back to the level of 2014 – with lower turnover, however.
The car industry continued to invest in environmentally friendly technologies. Models to be launched in the next years will contain even more presshardened steel. In addition, high-strength aluminum will make an entrance. AP&T is well-equipped in view of both technologies.
We introduce initiatives that help customers increase the efficiency of their press hardening lines. For high-strength aluminum, we set up programs to verify optimal production processes. We also plan to apply our core competencies for production of bipolar plates to fuel cell cars.
Magnus Baarman, CEO
IMPORTANT EVENTS IN 2016
Four new customers ordered our press hardening technology. We reached an all-time high order intake for automation products.
To penetrate the growing market for press hardening in India, we have made initial contact with potential customers and started to build a local industrial network.
All of AP&T's employees participated in a series of events during the autumn to discuss the company's product strategies and to identify a common value base.
FAIRFORD´S VIEW
One of the fundamental motives for acquiring AP&T was an expected technical shift towards press hardening and we can now see that this is fully ongoing within the automotive industry worldwide. AP&T's customer offering enables lighter and less fuel consuming vehicles as well as improves safety which we believe to be two fundamental cornerstones motivating our long term engagement in the company.
AP&T's strong position within the metal forming industry has strengthened since the acquisition and we remain motivated to continue to support the company and its strategic plan to maintain and develop this market leading position.
Revenue, EBITDA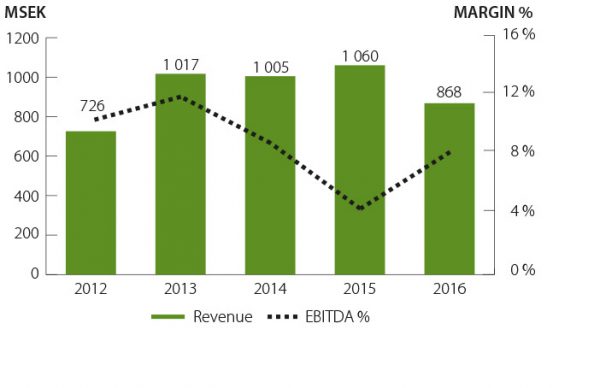 Equity Ratio, ROCE