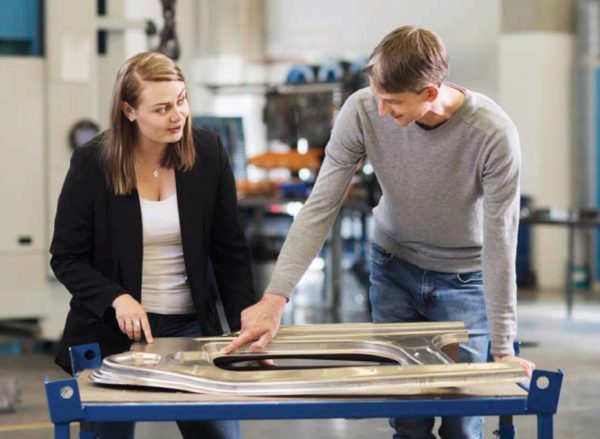 A WORD FROM THE CEO
The pandemic hit our company severely in 2020. Order intake fell by 41% compared to 2019 and landed at 570 MSEK. During the period February– October, order intake was limited to aftermarket products, some tooling and smaller automations. The few highlights during the year were a first press line for forming bio-fiber trays for food packaging and a press line for forming high-strength aluminum. The latter contained the new servo hydraulic press. Another servo hydraulic press was sold as stand-alone.
Turnover fell by 20% from 2019 and landed at 783 MSEK. This relatively high turnover compared to the low order intake is explained by a high order stock at the beginning of 2020 and our relative success in delivering projects throughout the year to customers despite lockdowns and travel restrictions.
The EBITDA margin reached 3%, 19 MSEK, a low gross profit due to a low resource utilization, streamlined administration costs, one-time effects for closing the tooling production and governmental subsidies compensating for short-term layoffs.
The automotive industry continues to invest in environmentally friendly technologies. The next-generation platforms will contain more press-hardened steel. With the launch of electrical cars, the need for partially hardened body parts will increase and our press hardening technology completed with the TemperBox® technology is fit for this purpose. Our servo hydraulic press continued to find new applications. Its unique forming performance and low energy consumption have attracted attention. By the end of 2020, we had sold six presses and were ahead of the launch plan. A new product application within eco-friendly bio-fiber forming has been introduced. One such equipment has been ordered for producing food-packaging trays. / Magnus Baarman, CEO.
IMPORTANT EVENTS IN 2020
We have had to fight the pandemic since March. The challenge has been to find a balance between protecting personnel from infection and keeping the business going. We are pleased to have no report of any employees becoming really ill due to the virus and to have been able to secure the business by continuing to deliver projects and through tight cost control.
Due to profitability problems over a longer period of time, we closed our tool engineering and production in the fall. We continued to serve the market with tools from a dedicated partner.
We successfully delivered two extensive front-of-line automations for tandem lines to two car companies in North America.
Based on differentiation and added value, we developed pricing strategies for rollout in 2021.
FAIRFORD'S VIEW
One of the fundamental motives for acquiring AP&T was an expected technical shift towards press hardening and we can now say that this technology has become a standard for critical parts within the automotive industry worldwide. AP&T's technology offering enables lighter and thereby less fuel / energy consuming vehicles while at the same time improving safety and we believe these are two fundamental cornerstones motivating our long term engagement in the company.
AP&T's position within the metal forming industry has strengthened since the acquisition and in addition to this traditional segment we see growth opportunities opening up in forming of other materials (such as wood fiber). In a broader perspective AP&T's know-how and technologies adds to many other exciting innovations that long term will make a positive impact sustainability wise.